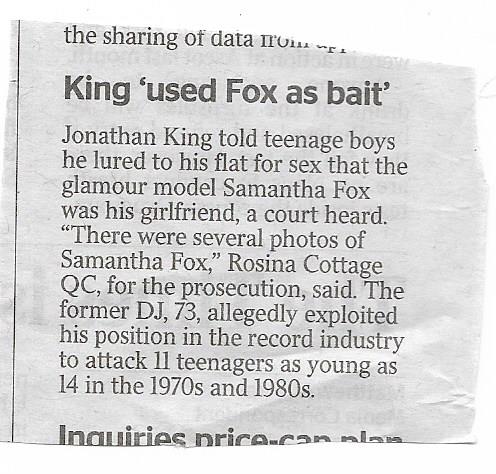 The Times, June 14, 2018
(63 words) This is almost certainly the most useless court report I have ever seen. Among the basic things you must cover are:
What court is it? (Southwark Crown Court)
When was the hearing? (Yesterday)
What are the charges? (24 serious sexual assault charges against 11 boys aged between 14 and 16, alleged to have taken place between 1970 and 1988)
What is the plea? (Not guilty)
Is the trial continuing? (Yes)
Instead we get two sentences which more or less duplicate each other. The identity of the prosecuting counsel is not interesting. It baffles me how such sub-standard work can get into the paper. Is there no revising done at The Times? Or is it no longer considered necessary to do it right? Is the attitude that any old thing will do if it fills the space?
This is how I would have done it:
Former DJ and pop star Jonathan King, 73, lured teenage boys to his flat in Bayswater, central London, for sex by pretending that Page Three girl Samantha Fox was his girlfriend, a jury at Southwark Crown Court heard yesterday. King denies 24 charges of serious sexually assaulting 11 boys aged 14 to 16 between 1970 and 1988. The trial continues. (60 words)