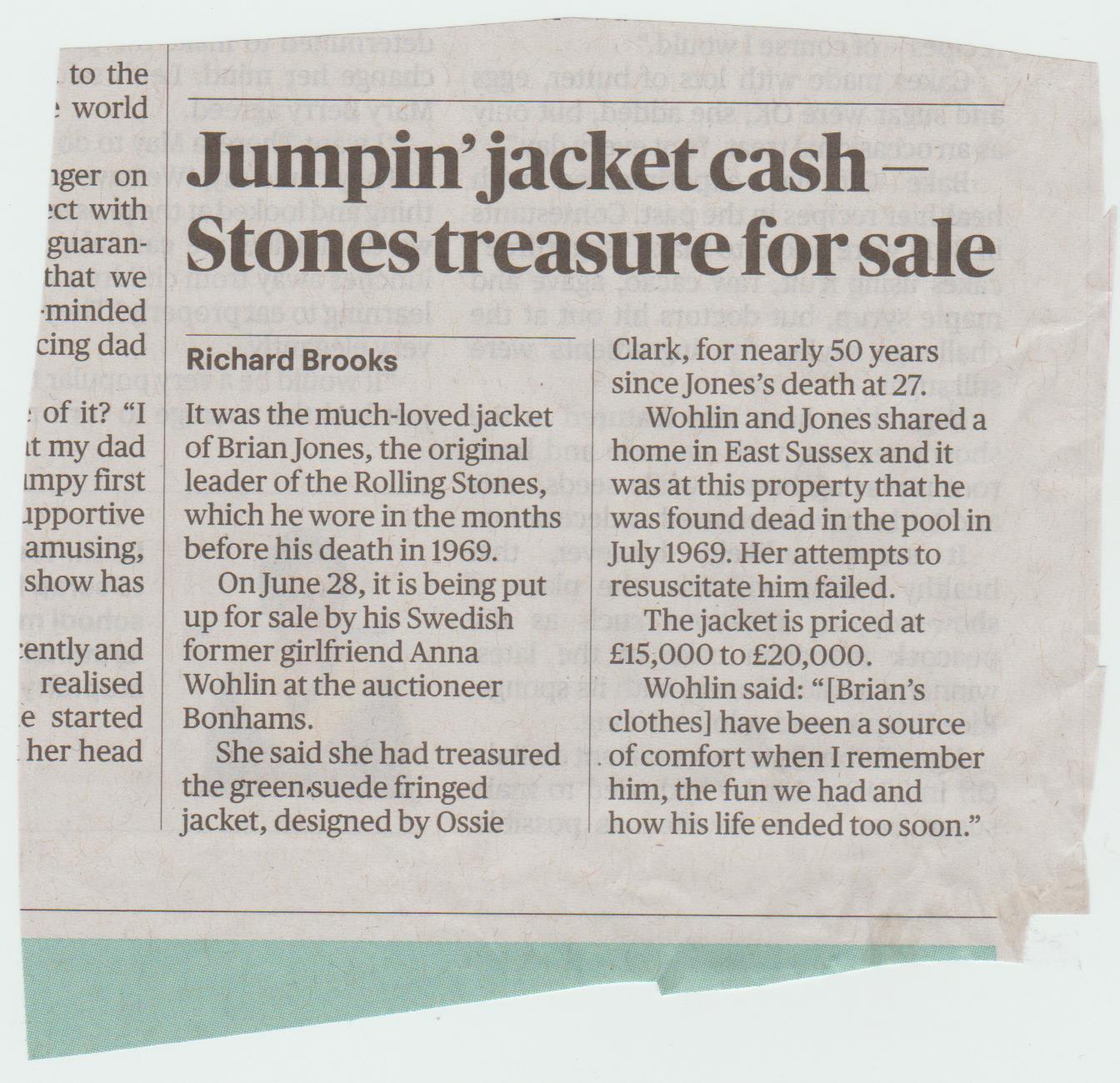 Sunday Times, May 28, 2017
(132 words)
What a peculiar intro, and the whole thing has a stilted feel.
This is how I would do it:
(Par 1) The jacket worn by Brian Jones, the original leader of the Rolling Stones, in the months before his death nearly 50 years ago is to be auctioned.
(Par 2) The Ossie Clark design, in green suede with fringes, is expected to fetch up to £20,000.
(Par 3) It is being sold by Anna Wohlin, who was Jones's girlfriend at the time. She and the guitarist shared a home in East Sussex, and she found him drowned in the swimming pool in July 1969. He was 27.
(Par 4) Swedish-born Wohlin said Jones's clothes 'have been a source of comfort when I remember him, the fun we had and how his life ended too soon.'
(Par 5) The jacket will be sold by Bonhams on June 28. (118 words)
Par 1: It is better to say 'nearly 50 years ago' than 1969, as it saves the reader having to do mental arithmetic. It also avoids repeating 1969.
Par 2: The first thing you want to know is how much it is worth.
Par 3: Describing Anna Wohlin as Jones's former girlfriend makes it sound as if their relationship had ended by the time of his death. It is worth pointing out that she found him in the pool.
Par 4: This quote is fine but it really needs to explain why she is parting with the jacket now. If you start it as I have, you don't need the ugly and intrusive square brackets.
Par 5: The least interesting bits of the story are the name of the auction house and the date of the sale, so leave them to the last par. They certainly don't need to be in the second par.
This comes up a little bit shorter than the Sunday Times version, which leaves room for a line that Wohlin wrote a book which claimed that Jones was murdered.