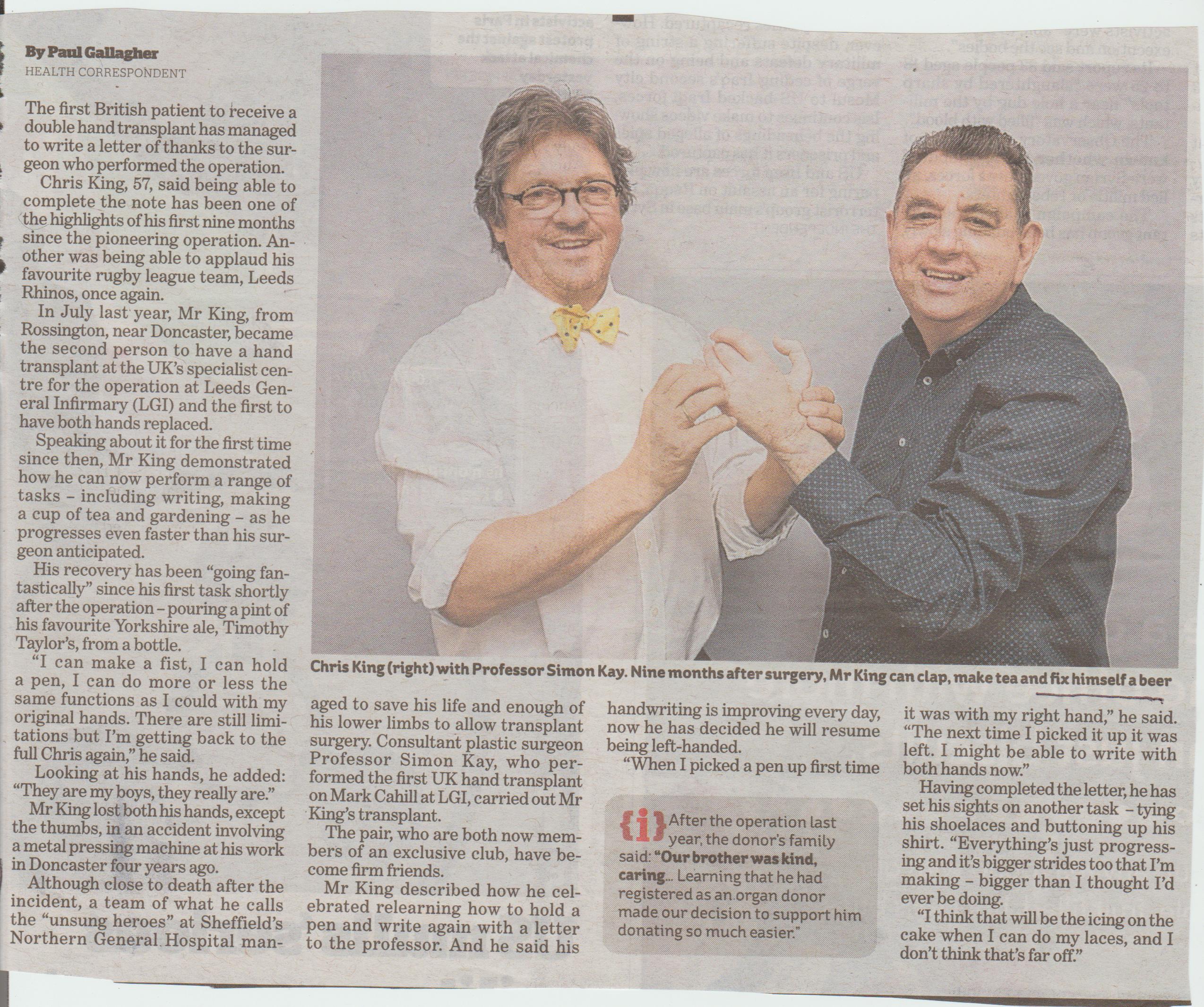 i newspaper, April 7, 2017
The reason for the transplant is too far down the story, in the eighth par. I would also add a quote higher up.
This is how I would do the first few pars:
The first British patient to receive a double hand transplant has managed to write a letter of thanks to the surgeon who performed the operation.
Chris King, 57, said being able to complete the note had been one of the highlights of his first nine months since the pioneering operation. Another was being able to applaud his favourite rugby league team, Leeds Rhinos, once again.
"I can make a fist, I can hold a pen, I can do more or less the same functions as I could with my original hands," he said. "There are still limitations but I'm getting back to the full Chris again."
Looking at his hands, he added: "They are my boys, they really are."
Mr King, from Rossington, near Doncaster, lost his hands, except the thumbs, in a work accident involving a metal pressing machine four years ago.
He was close to death but a team of "unsung heroes" at Sheffield's Northern General Hospital saved his life.
Consultant plastic surgeon Professor Simon Kay, who performed the first UK hand transplant, carried out Mr King's surgery in July last year. He was the first person to have both hands replaced.
A couple of other points: the last par in the first leg starts with a hanging, or dangling, participle. This is a phrase which refers to the first subject mentioned after it. So this reads as if the unsung heroes were close to death, not the patient. Another great example of this was on BBC Radio 4: 'Fifty years after his suicide, Prime Minister Gordon Brown has apologised to Alan Turing'.
In the caption, 'fix himself a beer' is an Americanism. In this country we would say 'pour himself a beer'.