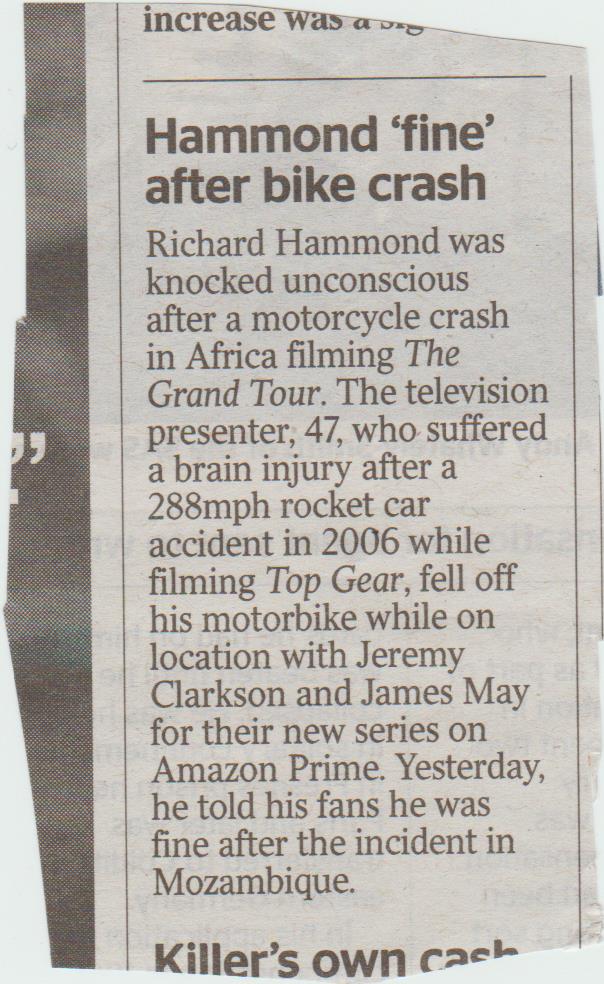 The Times, March 21, 2017
'After' does not mean 'at the same time'. The implication of this piece is that Richard Hammond crashed his bike then someone came along and hit him over the head, and that the same thing happened after his previous accident with the rocket car.
Apart from that, the word 'after' is used four times in a very short story and heading.
This how I would do it:
Richard Hammond was knocked unconscious when he fell off a motorbike while filming The Grand Tour in Africa.
The 47-year-old TV presenter [note: not the TV presenter, 47, which is clumsy] suffered a brain injury 11 years ago [I think this is better than 2006 because the reader does not need to calculate how long ago it was] when a rocket car he was driving for Top Gear crashed at 288mph.
The latest accident happened in Mozambique, where Hammond was filming on location with Jeremy Clarkson and James May for their new series on Amazon Prime.
Yesterday [I don't see any need for a comma] he told his fans he was fine.